Are you searching for that special part? Do you need help with your restoration supplies? Look no further! Dale's Muscle Car Parts located in Muskoka Ontario is your restoration supply and high performance part's headquarters. As cottage country's local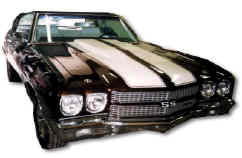 speed shop we sell new, used and rebuilt high performance parts. We offer you the best parts at the best price.
But, we are not only a retail shop! We also do ground up and partial restorations, do upholstery recovering and with our Licensed Mechanic on duty we can do regular maintenance on your vehicle or rebuild your motor or rear end. Give us a call at Dale's Muscle Car Parts and see what we can do for you!
Please note: Our website crashed a few weeks ago and we were able to restore this old version of it. We are in the process of updating this version, but it will take some time, please be patient. We have most of the pages restored now except for the "specials" page and a couple of prices on emblems on the emblem page. We have also not got our "other Beaumont item" pages up and running yet, but hope to soon. If you are a Beaumont owner and are looking for something please just give us a call or email us. If you are not seeing the webpages properly try "Refreshing" the webpage to bring your version up to date. Thanks
Chevelles & Beaumonts Are Our Specialty!
But we also do other cars and even older trucks. Check out our restoration
pages and photo gallery to see some of the projects we've worked on.
Beaumont enthusiasts take note.
We have new reproduction emblems waiting for you, many of them exclusive to us!

Dale's Muscle Car Parts
Address:
1035 Manitoba Street
Bracebridge, Ontario
P1L 0K8

Phone:
705-645-6831, or
1-877-276-6831 (toll free)

Email:
dalesmusclecar@gmail.com
Open:

Monday to Thursday 8 am to 5:00 pm

WE ARE NOW CLOSED FRIDAY, SATURDAY & SUNDAY

After Hours Pick-Ups or Deliveries-By Appointment Only!
Cheque

E-Transfer